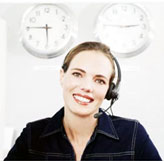 WORLD e Business Support

Email Support
Email support is the recommended mode of support. Email support is available 24 hours a day, 7 days per week. Please login to the WORLD e Web Portal to use the electronic Support module.
Phone Support
Tech support via telephone is available between the hours of 9:00AM and 5:00 PM EST, Monday through Friday. The phone number for Tech Support is 888-820-WEBS.
Computing Requirements
The requirements for running the WORLD e Business Solutions Realty Management System are minimum. For Administrators and heavy transaction users the WORLD e System utilizes a Smart Client
that allows full integration with the Internet and your desktop applications. The recommended specifications are as follows:

For Agents and accessing the Web Portal, supported browser include: IE6 and higher and Firefox 3.6 and higher.
Training
Training classes for WORLD e Business Solutions software will be scheduled as required. Please contact us for more information or to schedule on-site training.