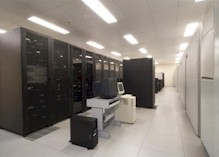 WORLD e Business Class Data Center

Tier-1 Bandwidth
Multi-homed redundant fiber connections and peering with Tier-1 providers ensure you're always connected and that your data takes the quickest, most efficient routes for optimal transfer speeds. All primary systems within the core network are redundant. Everything from the Cisco core routers and PIX firewalls to the DNS and Authentication systems have secondary hardware in place. Maintenance and support contracts with our vendors, along with third party consultants, ensure constant uptime and availability.
Security
Data center access is strictly limited to technical staff. Electronic security systems control data center access and are accompanied by a full compliment of motion detecting security cameras which monitor the entire facility.
Power Systems
The power systems feature extensive fault tolerance and resilience at every layer. The facility is also protected by one or more Uninterruptible Power Supplies (UPS), featuring redundant battery cabinets and full maintenance bypass cabinets allowing for service and upgrades without interruption of power to the servers. Liebert Precision power distribution units handle final power transformation and distribution to racks, ensuring clean consistent power to data center equipment. The facility has emergency generators waiting on standby. Generator power is activated automatically in the event of a utility failure by the transfer switch.
Environmental Controls
Environmental processing systems include redundant Liebert Precision air conditioning units. Temperature and humidity are precisely regulated year round to ensure optimal equipment reliability. Each unit contains independent compressors and cooling loops to further enhance fault tolerance and reliability. Air filtration systems actively remove foreign particulates from circulation and cycle the entire data center air supply in a matter of minutes.